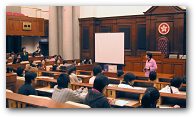 We were honoured to have Ying Wa alumna and elected legislative councilor, the Hon. Choy So Yuk (蔡素玉), as our tour guide for the day.
The first stop was the grand LegCo Chamber. With her wealth of experience as a Legislative Councillor, Ms Choy gave us a very comprehensive introduction of the history of the building, composition of the LegCo, functions & powers of the LegCo. Moreover she shared with us some of the anecdotes of the LegCo meetings!
Mentors and mentees were all eager to ask questions and Ms Choy answered them all. Before we left the chamber, each of us was given an information pack on LegCo.