The evening programme began at 7 pm with the Founder's Day Service.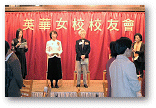 [ programme ] [ prayer]

(2 MB, 50 sec)

With a PowerPoint presentation, Ms Rebecca Ching Kai-ming, our Chairlady, gave us a brief activity review of YWGSAA in the last 12 months, followed by the financial report presented by our Treasurer, Ms Huen Kwai-fun.
[ wmv, 2.4 MB ]
[ wmv, 7.1 MB ]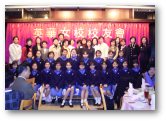 The mentorship programme was officially launched this evening with an inauguration ceremony. Taking part in a pilot scheme, which runs from now until August 23, are 23 mentees and 20 mentors who met for the first time this evening.

(4.9 MB, 2.5 min)
Members of organizing workgroup includes Miss Florence Ip, Mrs Fong Lo Sau-chun, Rosanna Wong, Rebecca Ching and Mrs Ruth Lee.