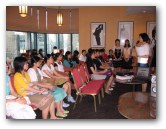 This was the second outdoors activity of the Mentorship Programme. Including mentors and mentees, around 120 alumnae joined this function.
After a brief welcoming speech from Florence Ip (project coordinator) and Rebecca Ching, the evening programme began. A mentee was invited to share her special experience.



Social Etiquette
It refers to a set of rules governing socially acceptable behavior.


The Golden Rule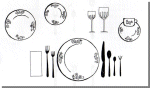 Work from the outside-in: Using the outermost utensils first, working inward toward the center of the place setting, course by course.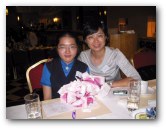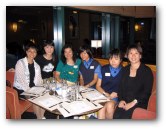 Vote of Thanks
On behalf of all, Mrs Ruth Lee, our School Principal, thanked the organizers of the Mentorship Programme and participants.


Members included Florence Ip (coordinator), Mrs Fong Lo Sau-chun (teacher), Rosanna Wong, Rebecca Ching and Christine Choy.

Gathering 2005
Click here to check out the programme organised last year!
More photos >>


Short Talk on Table Manners & Greetings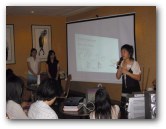 A team of students delivered a PowerPoint presentation. Shortly after an intro, a lively demonstration of bad and good examples were shown, which earned much enthusiastic applause from the audience. [ ppt ]
Train The Trainer - The student presenters received training from Rosanna Wong and Florence Ip and they in turn became trainers for the evening! [ Photo ]


How to Make Conversation Easy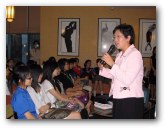 Very often in a social gathering, we have to make "small talk" and communicate with strangers. Patricia Lai, an experienced trainer, delivered an interactive talk on different levels of communication skills and also highlighted elements of successful conversation. [ ppt ]


Surprise! Surprise!
To show their appreciation, mentees prepared a gift and presented it to their mentor before the meal began!



Buffet Dinner
Assorted delicious dishes were served. Ice-cream was definitely one of the favourites! During the meal, mentors and mentees were able to chit-chat and got further acquainted with each other.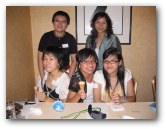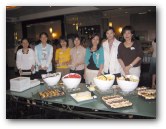 Napkin Folding



There was a competition by table. Colourful napkins distributed to all participants were transformed to creative decorative objects. Here are the winners!
| | | |
| --- | --- | --- |
| | | |
| The Champion | First Runners-up | Second Runners-up |