Overseas Chapters
Overseas Chapters
Toronto Chapter
Contact person: Ms Yolanda Shin
Latest news:
On 25 September 2017, 75 of the Toronto alumnae gathered at the Casa Victoria Restaurant for our annual dinner. We used the night to celebrate graduation anniversaries, raise fund for the Redevelopment Fund and reconnect with friends and teachers. This year marked a very special occasion for a few classes to celebrate their 40th, 45th, 50th, 55th and 65th and Miss Kwan's 80th graduation anniversaries. With frangipanis atop our specially made cake to celebrate the moment, we all felt young and energized again as teenagers. Read an article written by Ms Yolanda Shin.
Background:
The alumnae community in Toronto first started in July, 1988 when Miss Kwan Yeuk Laan and a few graduates from the Class of '59 gathered about 100 past students and staff members for dinner when Mrs. Katherine Chau, Miss Lam Sui Sum and Miss Yau Ping Wai visited Toronto.
Ever since then, graduates from Class of '59 voluntarily coordinated alumnae in Toronto for Annual Dinners every summer. This has become a tradition and their in the past 21 years, this coordinating work has been passed on to graduates of Class of '71, '70 and now to Yolanda of Class of '77.

[ Gathering 2005 ] [ Gathering 2008 ] [ Gathering 2009 ] [ Gathering 2010 ] [ Gathering 2012 ] [ Gathering 2013 ] [ Gathering 2015 ] [ Gathering 2016 ] [ Gathering 2017 ]
---
Vancouver Chapter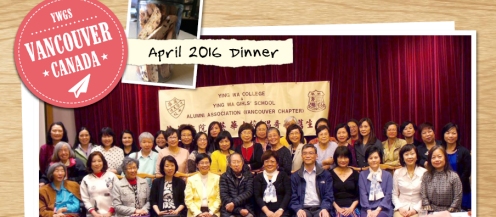 Contact person: Mrs Audrey Yeung
Latest news:
Ying Wa alumni enjoyed a wonderful gathering at Fisherman's Terrace Seafood Restaurant on April 29, 2017. This time, we have raised $1,170 CAD for the Ying Wa Girls' School redevelopment fund from raffle ticket sales! [ photo ]
Moreover, alumni welcomed Ms Kwan Yeuk Laan (former vice-principal and teacher) and celebrated her 97th birthday on August 25, 2017. [ Articles ]
Click here to read an article written by Mrs Ruth Lee (7th YWGS Principal) released in Feb 2018.
Happy news:
Vancouver Chapter is able to name the Project Based Learning Centre Room in our new school site! Halleluiah! Praise the Lord for His Grace given to our School!
Background: The formation of Alumni Association in Vancouver was initiated by a few early immigrants of YWGs whose husbands were graduated from Ying Wa College way back in the early "80s with founders of less than 8.
With the influx of H.K. immigrants to Vancouver later in the years, YWGS and YW College Alumni Association, Vancouver Chapter, was formally organized 25 years ago. We now have about 120 YWGS and 30 YWBC members in our directory, though about 30% may not be up-to-date over time.
Our Annual Dinners were usually held in spring. In recent years, we invited speakers from our alumnae to give us professional advice on topics of interest like health, estate management, botany, etc. In the last 10 years, they have a moderate participants of 50 including some supportive spouses.
[ Gathering 2005 ] [ Gathering 2008 ] [ Gathering 2009 ] [ Gathering 2010 ] [ Gathering 2012 ] [ Gathering 2013 ] [ Gathering 2014 ] [ Gathering 2015 ] [ Gathering 2016 ] [ Gathering 2017 ]
---
Australia Chapter
Contact person: Ms Esther Cheang
Latest news:
A Yum Cha gathering was held on 6 January 2018 with 20 alumnae joining the event at the Greenwood Chinese Restaurant in North Sydney. Old and new acquaintances greeted friendlily and chatted happily. We treasured our friendship, enjoyed the delicious food as well as the precious time of meeting up. [ Activity report ]

Ying Wa's Sydney alumnae held our very first gathering of the year on 6 January 2017, having dim sum followed by a leisure walk on the nearby Kokoda Track and Bay area.

Five months later, we visited an exhibition on poetry, couplets, calligraphy, Chinese painting and photography organised by the Australian Tai Chi and Cultural Association held in Chatswood Chinese Cultural Centre on 5 June 2017.

18 of our alumnae and family attended the 'WW II Flying Tigers' seminar at the University of Sydney on 17 July 2017. The talk was given by Prof. Deborah Duen Ling CHUNG, a world renowned speaker, author, and YW alumna ('69) from the United States. Moreover, we met Ms Wong Pui Yin and Ms Chu Yuen Wan (teachers) in Nov and Dec respectively.

Click here to read a compiled report of the activities.
[ Gatherings 2015 ] [ Gatherings 2016 ] [ Gatherings 2017 ]
---
Southern California (Los Angeles) Chapter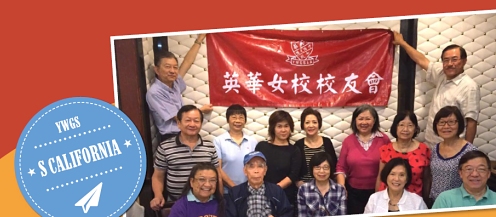 Contact persons: Mrs Jenny Lew Fong Yuk Chee / Mrs Wing Chan Tsang
Latest news:
On 11 Feb 2017, we had our first gathering at Rosemead to celebrate Lunar New Year.

Then 4 months later, on 3 June 2017, we were happy to welcome a new alumna, Virginia Yip ('05) and her mother An Wong, to our luncheon.

On 28 October 2017, a lunch gathering was held at our usual place East Gourmet Seafood Restaurant in Rosemead. We had 13 attendees sharing yummy home-grown persimmons! [ Articles ]
Background:
On 6 August 2013, with the enthusiasm and kindness of some alumnae in LA, they have had their first ever gathering of YW girls ranging from the 1930's to 2004 - a historic moment they said. Click here to read an article on our birth!

[ Gathering 2015 ] [ Gatherings 2016 ] [ Gatherings 2017 ]
---
Northern California (San Francisco Bay Area) Chapter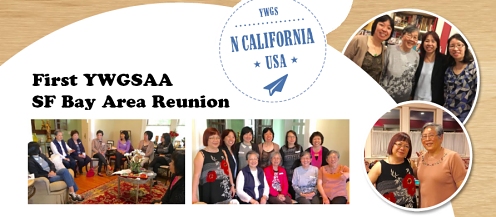 Contact persons: Ms Gloria Lee / Ms Monica Yeung Arima
Latest news:
Devoted core of a few alumnae gathered in the home of Gloria Lee ('88), coordinator of the San Francisco Bay Area Chapter of AA, on 29 April 2017 to pray for Ying Wa, in support of the global prayer initiative.

On 8 July 2017 (Saturday), 7 alumnae gathered at the home of Monica Yeung ('75) at Palo Alto, California for a cosy potluck gathering.

Before the end of 2017, 13 ladies from classes of 60s to 90s, had a cozy gathering at a festive restaurant. We had fun re-connecting with old friends, made new ones, shared fond YW memories, and exchanged wisdom on a variety of topics. Many won prizes at the lucky draw!
[ Articles ]

Background:
The Northern California Chapter based in San Francisco Bay Area was born in January 2016 and there were already over 40 members! We had our first meeting with Mrs Ruth Lee, former YW principal on 19 October 2015. Click here to read an article on our birth!
You are welcome to join our Facebook Group and/or WhatsApp Group!
[ Gathering 2015 ] [ Gatherings 2016 ] [ Gatherings 2017 ]
---
Others
Do feel free to contact the webmaster if you want to take up the role of volunteer coordinator in your vincity!