Never too late to learn a new skill
Never too late to learn a new skill
Livia Lo ('75)
"Zoom"
I used to think video conferences only apply to multi-national companies. But since March this year, I suddenly found myself thrust with the need to learn all these, including Zoom meetings and WhatsApp video calls, and even to host them.
In mid-March, I started to use Zoom for my church meetings. Then, at the end of March, my dear mother passed away (not because of the pandemic). At that time, Ontario restricted attendance at funeral service to ten people. We had to rely on Zoom to let family members who could not attend the service to watch the proceedings live at home.
Melanie's Circle of Friends
After the funeral service of my mom, I started to think of Melanie (彭敏芝), my classmate and good friend. She has been staying in a nursing home for more than four years due to health reasons. A handful of classmates used to visit her from time to time and we even held a Christmas party for her in 2017 at the nursing home. But since the lockdown in March, restrictions have made it impossible for us to visit.
Finally, with the help of Melanie's husband, Warren, and the nursing home staff, we arranged a WhatsApp video call session with her. Though it only lasted around 20 minutes, we were able to give her encouragement, and we also felt comforted that she was coping with the situation. We will continue to support Melanie and to cheer her up.
And for me, I learn that no age is too old to start learning something new. Everyday there is something new for us. Praise the Lord for each and every day.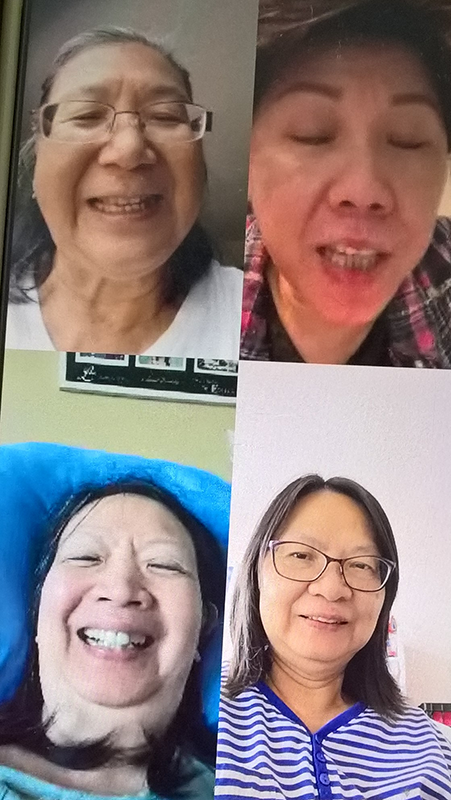 In August, we had another WhatsApp video call with Melanie. As her husband could go inside to visit her, we did not need a staff helping us. We could enjoy a longer chat time.
Top left: Christina Chan 陳慧媚
Top right: Lily Fong 方麗麗
Bottom left: Melanie Pang 彭敏芝
Bottom right: Livia Lo 勞美宜
(All '75)
Christmas party for Melanie in December 2017
From left to right:
Lana Li 李佩蘭, Amy Ho 何潤梅, Sarah Mui 梅冰琦, Christina Chan 陳慧媚, Melanie Pang 彭敏芝, Rachel Wong 黃婉莊, Phyllis Koo 古沅婷, Livia Lo 勞美宜 (All '75)